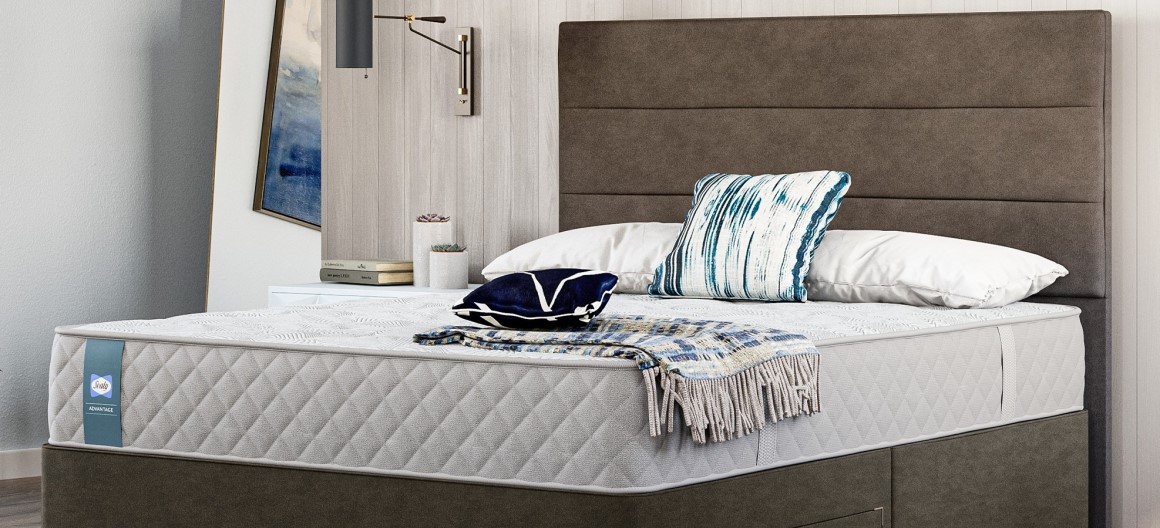 Grandwood
The Grandwood mattress collection by Sealy offers the perfect pressure relief, thanks to it's super flexible latex comfort layer. Latex is also anti-bacterial, promoting a clean and comfortably cool sleep environment by helping regulate your body temperature. When combined with Sealy's exclusive PostureTech spring system, the Grandwood mattress offers enduring and deep-seated support. Its pocket springs are responsive to your movements, ensuring support precisely where it's needed as you slumber. Nestled within the spring unit, EdgeGuard seamlessly extends the sleep surface while enhancing overall durability. All Sealy mattresses are meticulously handcrafted in Britain and come backed by a reassuring 5-year warranty, providing you with additional peace of mind.
What sizes is the Grandwood collection available in?
The Grandwood collection caters for all individual needs and preferences, so you can rest assured to know that we have different sizes available to choose from:
3'0 mattress: approximately 90cm in width and 190cm in length, the Grandwood 3'0 mattress is perfect for a single bed.
4'0 mattress: measuring approximately 120cm in width and 190cm in length, the Grandwood 4'0 mattress is ideal for small double bed.
4'6 mattress: approximately 135cm in width and 190cm in length, the Grandwood 4'6 mattress fits a double bed
5'0 mattress: the Grandwood 5'0 mattress measures approximately 150cm in width and 200cm in length and is ideal for a King size bed
6'0 mattress: the Grandwood 6'0 mattress is the largest size and measures 180cm in width and 200cm in length and is perfect for Super King size beds
Available to purchase with a variety of bed frames
Available in a variety of sizes, with multiple storage options and diverse divan base fabrics to choose from, you are certain to discover the ideal bed to suit your preferences:
Top Divan Bed Set
Experience unparalleled comfort and support with the Grandwood Top Divan Bedset. Choose from 4 drawers, 2 + 2 drawers and 2 drawers to maximise your storage space. Available to purchase in a range of fabrics and colours, enhance the look and feel of your room and experience ultimate comfort and luxury.
Top Ottoman Bed Set
For those who seek both style and functionality, the Grandwood Top Ottoman Set is the perfect choice. The Grandwood Ottoman Set combines premium comfort and support with a clever storage solution. Lift the ottoman base to reveal a spacious storage compartment beneath, providing a smart way to declutter your bedroom.
View The Grandwood collection in our stores across South West England
At Fairway Furniture, we understand that every sleeper has unique preferences. That's why our Grandwood collection is available in a variety of sizes, allowing you to select the mattress that perfectly suits your needs. Our knowledgeable and friendly staff are ready to assist you in finding the perfect mattress to transform your sleep quality. Elevate your sleep experience with Fairway Furniture's Grandwood Mattress Collection. Visit our stores in St Austell, Plymouth, Newton Abbot, Tavistock to explore the luxurious comfort and exceptional quality that awaits you.

---
Filter

---
---
---
---
---
---
---
---
---