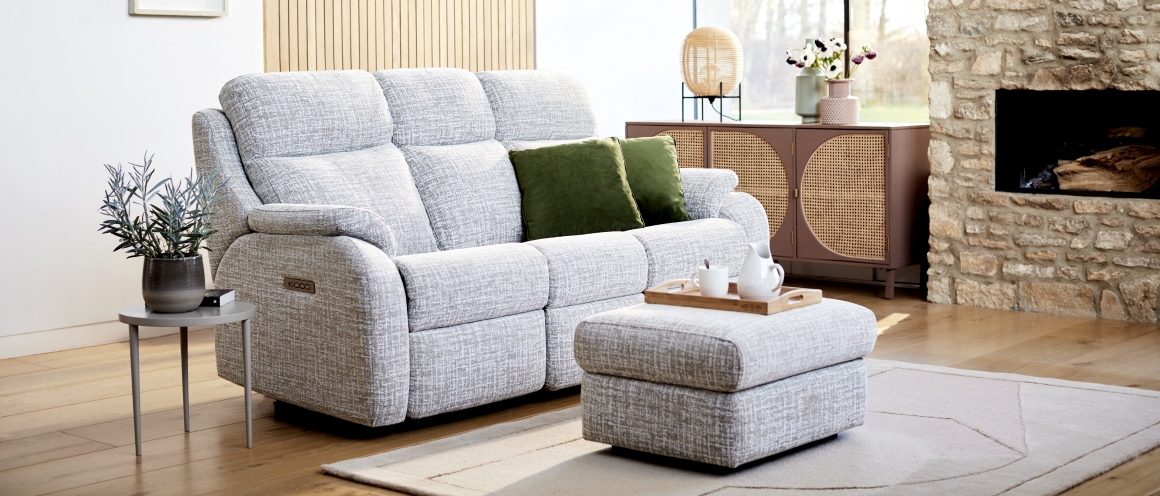 G Plan Kingsbury
Discover unparalleled comfort and contemporary elegance with the G Plan Kingsbury collection. Designed for a welcoming family ambiance, this modern suite beckons with its relaxed silhouette. Personalise your ideal sofa by selecting from a range of recliner options, available to order online in a select choice of fabrics and leathers, with the full fabric and leather range available to view and order in store. Elevate your living space with confidence, as each G Plan piece is backed by a 25-year frame and frame construction guarantee, along with a 10-year spring guarantee. All items in the G Plan Kingsbury collection are manufactured in the UK by skilled master craftsmen, guaranteeing a long-lasting, hard-wearing finish. Due to the size of the items, use of our delivery and set up service is required, please ask in store for more details.
The G Plan Kingsbury range is crafted with quality and style in mind
The G Plan Kingsbury collection is a testament to both comfort and style. With a contemporary yet relaxed design, it sets the stage for a warm and inviting family atmosphere. Offering an array of recliner options, the Kingsbury allows you to customize your sofa to your preferences, ensuring an optimal lounging experience. The collection is available for online ordering, providing the convenience of choice from a select range of fabric and leather options.
Whether you're looking to create a cozy family retreat or a stylish entertaining area, the G Plan Kingsbury collection's design offers a versatile canvas for expressing your personal style while prioritising comfort and quality.
Responsibly sourced sofas
Crafted with meticulous attention to detail, the G Plan Kingsbury collection showcases a dedication to quality. Responsibly sourced hardwood is used in key structural areas, ensuring stability and longevity. The choice of premium fabrics and leathers further enhances its visual appeal and tactile comfort. The result is a design that not only looks exquisite but also provides a truly comfortable and enjoyable space for relaxation and gathering.
Visit us in stores today to view the top-quality G Plan Kingsbury collection
Visit our stores across South West England: Plymouth, Tavistock, St Austell and Newton Abbot to immerse yourself in the world of G Plan Kingsbury sofas. Feel the plush cushioning, admire the meticulous craftsmanship, and envision how these sofas could elevate your home. Our knowledgeable staff are on hand to assist you, providing insights and guidance to help you make the perfect choice for your living room. Alternatively, if you have made your decision on the type of sofa, then order online and we will deliver to your doorstep across the UK.

---
Filter

---
---
---
---
---
---
---