Adding that warm and cosy feeling to your home
Adding that warm and cosy feeling to your home
---
---
Choosing your new carpet has never been easier
We have hundreds of carpets available for you to choose from, from traditional and classic designs to modern carpets that give our home that luxurious feel. Our in store experts at Plymouth, Tavistock, Newton Abbot and St Austell are on hand to discuss what type of carpet would best suit your home, and we can loan you samples so you can check they'll match your existing or new decor.
Our FREE no obligation measuring service allows us to give you a fully itemised quotation, including fitting, and with many carpets available within as little as 7 days, you can have your new flooring quicker than you might imagine.
Simply visit your nearest store and book your personal measuring consultation now.
---
Great reasons to choose Fairway for your new carpet
FREE samples so you can choose in the comfort of home
FREE no obligation measuring and estimating service
Fitting advice, including any ancilliary work needed beforehand
Expert advice on the best type of carpet for your particular room
---
Making the right choice when choosing your carpet
With hundreds of ranges to choose from, making sure you choose the right carpet for your chosen room can be challenging. Our in store experts can help you with plenty of advice, explaining the different types of carpet, as well as the benefits of each and their suitability for your project.
We'e put together a Flooring Buying Guide which provides lots of useful information about how to make the right choice - read it here.
Fitting of your new carpet
Once you've chosen your new carpet, we can arrange expert fitting at a date to suit you. Our in store experts can provide a full fitting quotation, including any fitting-related services you need, such as removing old carpets, preparing the sub-floor if needed and moving appliances.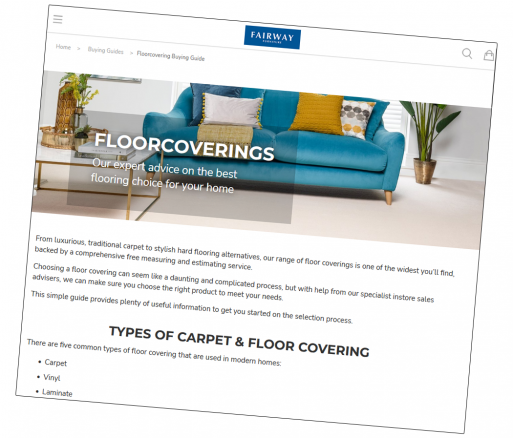 ---
Looking after your new carpet
No matter how careful we are, accidents happen, so making sure you know how to look after your new carpet is vital. We've put together a handy Floorcovering Care Guide, available here.
You can also choose to add one of Staingard Protection Plans to your new carpet, which give added piece of mind. It helps prevent accidents becoming last damage - find out more here.
---
Please
contact us
if you can't find what you're looking for.