Smooth vinyl flooring for great value practicality
Smooth vinyl flooring for great value practicality
---
---
Choosing you new vinyl flooring
Vinyl flooring offers a superbly cost-effective way to make any room feel fresh and clean. Vinyl is very popular, particularly for kitchens and bathrooms, where it can provide an easily cleaned and warmer feeling underfoot than ceramic or porcelain tiles.
Our in store experts at Plymouth, Tavistock, Newton Abbot and St Austell are available and can discuss whether vinyl is the right choice for your project, and we can loan you vinyl samples so you can compare them with your decor at home.
We provide a FREE no obligation measuring service so we can give you a fully itemised quotation, including fitting, and with many vinyls available within as little as 7 days, you can have your new vinyl quicker than you might think.
Simply visit your nearest store and book your personal measuring consultation now.
---
Great reasons to choose Fairway for your new vinyl flooring
FREE samples so you can choose in the comfort of home
FREE no obligation measuring and estimating service
Fitting advice, including any ancilliary work needed beforehand
Expert advice on the best type of carpet for your particular room
---
Making the right choice
With hundreds of ranges to choose from, choosing the right vinyl for your chosen room can be a challenge. Our in store experts can give you lots of helpful advice, explaining the different types of vinyl, as well as the benefits of each and their suitability for your project.
We've put together a comprehensive Flooring Buying Guide which provides lots of useful information about how to make the right choice - read it here.
Vinyl fitting service
Having chosen your new vinyl, we can arrange for our expert fitters to install at a time to suit you. Our in store experts can provide a full quotation, including any specialist fitting-related services, such as removing your old flooring, preparing the sub-floor if needed and moving appliances.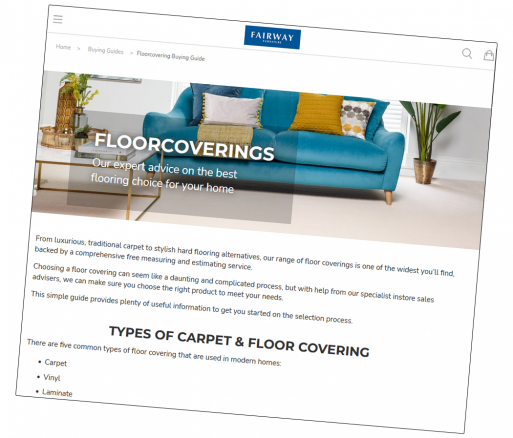 ---
Caring for your new vinyl flooring
Having invested in new vinyl flooring, its very important that you look after it, so here are opur key tips on how to ensure your flooring stays looking its best for years to come:
Vinyl flooring provides a quick, hygienic and fuss-free flooring solution, but it is prone to damage immediately after being fitted, as furniture is placed back into a room.
We would recommend fitting felt pads or suitable glides to the castors and feet of your furniture for added cushioning to protect the surface of your vinyl. Never push, pull or drag heavy furniture across your vinyl flooring as this can mark, scratch, tear or damage the surface.
To increase durability and minimise the risk of damage, ensure that the surface is cleaned regularly with a floor brush or suitable vacuum attachment.
Make sure that any spills of liquids are wiped up promptly. If they are left for prolonged periods they can stain the surface. Use a damp cloth or lightly moistened floor mop to wash the surface, ensuring the floor dries out completely before walking on it again. Steam cleaners can be used, but check the vinyl manufacturer's instructions prior to doing so.
Do not use abrasive scourers on vinyl as this can cause permanent damage to the surface and will void any manufacturer warranty and your Fairway 5 year structural guarantee.
---
Please
contact us
if you can't find what you're looking for.