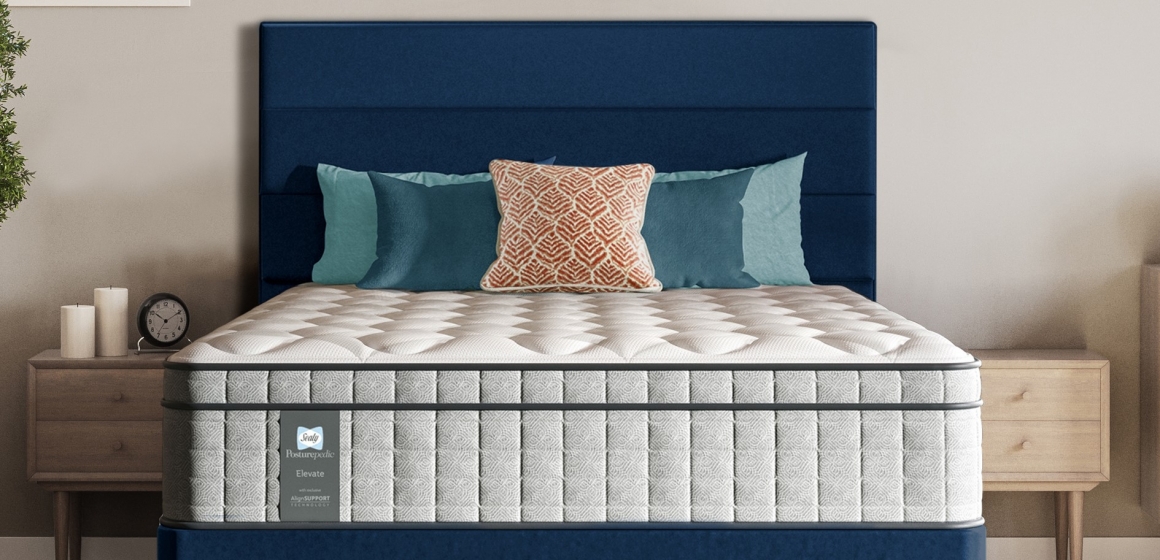 Chadwick
Not too firm, not too soft, the Chadwick mattress from Sealy offers a medium feel that is a real crowd pleaser. Featuring Sealy's ComfortCore technology, for outstanding pressure relief, as well as a high quality, durable foam insert for support and comfort where you need it most. The Chadwick also features Sealy's AlignSupport coiled spring system, which features twice tempered springs for an initial response and outstanding resilience. Sealy's SmarTex fabric cover draws away moisture to keep you cool and help regulate your body temperature, while the ProShield fabric treatment keeps allergens at bay for a clean and fresh nights sleep. All mattresses in the Chadwick collection feature BasePlank technology, an integral foundation that underpins the entire mattress and works with the springs to provide unrivalled support. UniCased technology brings structure to every point in the mattress, extending the sleeping area and prevents the feeling of rolling off. Available to order in a range of sizes, with a choice of storage options and divan base fabrics, you are sure to find the perfect bed for you. In store only.
What sizes are the mattresses available in?
The Chadwick collection is available in a range of sizes
• 3'0 mattress which is ideal for a single bed
• 4'6 mattress which is suitable for a standard double bed.
• 5'0 mattress which is suitable for a king size bed.
• 6'0 mattress which is suitable for a super king size bed
Available to purchase with a choice of storage options and bases
The Chadwick mattress by Sealy is a great option for those looking for a comfortable and supportive sleep. It is available in a variety of sizes and styles, so you can find the perfect one for your needs. The Chadwick mattress can be purchased as a top divan set or an ottoman bed base set with drawer storage options.
The top divan set is a great option for those who want a traditional bed frame. Whereas the ottoman bed base set is a great option for those who want a more modern bed frame. The ottoman bed base set also has drawer storage options, which is a great way to add extra storage space to your bedroom. The bed bases are made to order and ready to be delivered in 3 weeks.
The Chadwick selection available in our stores across South West England
If you are unsure about the size or which bed base to choose from the Chadwick collection, then why not come visit us in our stores across Devon and Cornwall? Our friendly sales assistants in our stores: ?Tavistock, Plymouth, St Austell and Newton Abbot will be more than happy to help you choose a mattress of your dreams. Visit today, or order online, we deliver throughout the United Kingdom.

---
Filter

---
---
---
---
---
---
---
---