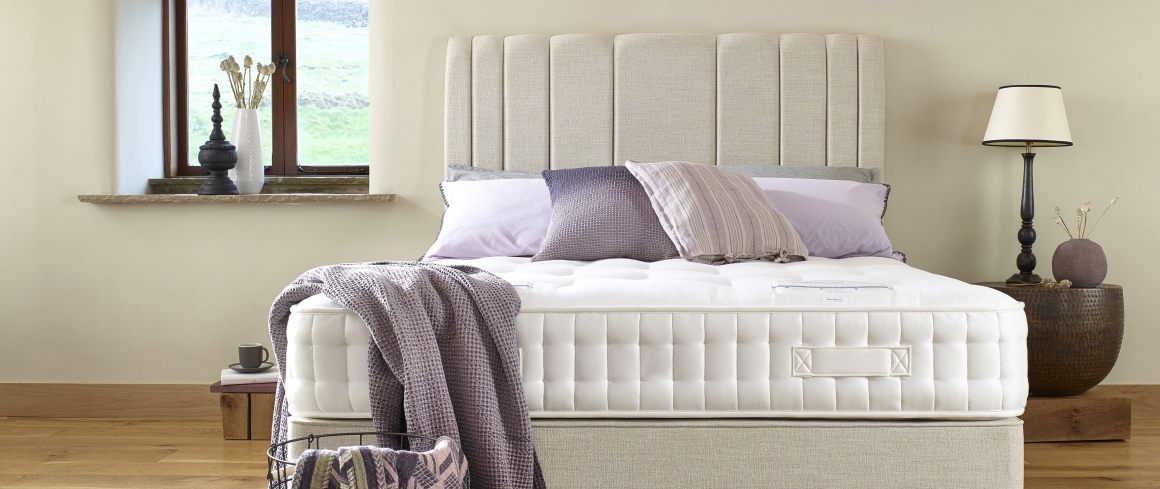 Ashton 5750
Exclusive to Fairway Furniture, the Ashton collection is part of the Harrison Spinks beds offering. The collection combines 5750 springs (based on a 5'0 model), and luxurious fillings for superior comfort, ensuring you always get a restful night's sleep. Ashton mattresses are designed with utmost care and attention to detail, by hand-picking luxurious natural materials like wool, cotton, hemp and flax for a truly opulent sleeping experience. Expertly crafted with the finest fabrics, the beds in the Ashton collection are built to last, ensuring you get a great night's sleep for years to come.
Ethically and sustainably friendly mattresses
Harrison is committed to providing an ethical and sustainable sleeping experience, with zero foam, glue or FR chemical treatments used in their mattress production. All Harrison mattresses are 100% recyclable at the end of their life, reducing the impact on the environment, as well as waste production.
Harrison's commitment to sustainability has led them to win the Carbon Neutral+ Award. They are also the first bed manufacturer to receive this prestigious recognition in the industry.

A wide selection of mattress tension to choose from
The Ashton mattresses are made with innovative Advanced Cortec™ pocket springs which combine microlution airflow springs for outstanding support. From gentle to medium and firm tension, the mattresses are available to order in a wide choice of tension to suit your needs.

The Ashton collection exclusively available in South West England
If you are having trouble deciding on the size of the mattress or type of tension you require, then why not come and see the mattresses in person? The Ashton collection is exclusively available to purchase in our stores Tavistock, St Austell, Plymouth and Newton Abbot. Our friendly staff will be more than happy to help you choose the mattress of your dreams, visit today. Alternatively, you can order online as we deliver across Devon and Cornwall and throughout the UK.

---
Filter

---
---
---
---
---
---
---
---
---
---