---
---
We take comfort seriously here at Fairway Furniture, which is why we are proud stockists of the world renowned himolla sofa collection. Manufactured in Germany by skilled master craftsmen, you are ensured not only fantastic durability and reliability, but also exceptional design quality. Immerse yourself in relaxation, with both contemporary and traditional styles to suit any taste.
A symphony of design and function, himolla boasts over 100 different leathers, as well as many individual fabrics so you can create your own unique suite. With a choice of himolla's ingenious recliner options, you can either recline at the touch of a button or use your own body to seamlessly glide into your ultimate relaxing position.
---
With our wide choice of leathers, fabrics and bases, relaxation can be as individual as you...
Everyone is different. Every piece of himolla's furniture is different too. Adjusted to your body size and individual expectations, every piece offers unbelievable potential for pure relaxation. We carry a vast selection of styles available in a wide choice of leathers and fabrics, all just waiting for you to bring your vision together. You can choose from the following models, which are available to view in store:
CHESTER
The curved Chester sofa range offers an integrated footrest and is made in a space-saving contemporary design. The extremely comfortable chairs are designed to make yourself at home. A matching lift and rise recliner helps people with limited ability to improve their quality of life without having compromise on design furniture.
MERSEY
The cumuly chair with its wooden swivel ring from provides some well-earned rest and relaxation. Thanks to the high-quality materials and excellent workmanship, this piece of furniture impresses with its exceptional seating comfort.
MOSEL
If you are looking for a comfortable recliner that impresses in all respects visually, the Mosel with its wooden swivel ring is the right choice for you. It is a design that fits seamlessly into all furnishing styles and yet acts as a fabulous eye-catcher.
RHINE
Elegantly stitched fluting with either manual or electric operation. The Rhine stands out thanks to its range of attractive options. You can choose from various different elements, such as sofas with a cumuly function or a fixed seat, as well as a curved sofa with a cumuly function. Transform your living room into an oasis of calm.
THEMSE
Sink into the Themse with a sigh of relief, with wide deep seats and acres of space giving you enough to ensure everyone can relax. Rechargeable battery packs mean there are no trailing electric leads. The Themse features comfortable sofas and chairs which provide you with wonderful relaxation. Choose between fixed suites or reclining action.
TOBI
Bring true comfort into your home with the Tobi recliner. Create a space to relax and enjoy the peace and comfort of your lounge. You can choose between various comfort features and even determine the design itself. Find out more about the wide-ranging options and the practical details available.
** Due to the number of choices and options available on all of the above models, we are unable to sell any Himolla models online. These are in store purchases only where we can offer detailed product information from our experienced teams.
---
Glide into the ultimate in relaxation
Specially designed with your relaxation in mind, the Cumuly recliner option offers an easy to use recliner and integrated footstool mechanism, using the weight of your body to glide effortlessly into a reclining position. Models such as the Mosel chair combine beautiful and elegant design with state of the art reclining actions for the ultimate in relaxation.
For those short on space, himolla offers fantastic compact models, which hug the wall whilst still being able to recline. The modern Brent collection is available as either a space saver wall hugger or a regular recliner in a range of luxurious fabrics to suit your style perfectly. The wall hugger still allows you to recline fully, without the need for space behind the sofa, making it a fantastic option for the smaller home.
With fantastic optional extras, such as a battery pack and charger, compatible with certain models, to make your power recliner wireless, and a limited 5-year guarantee for added peace of mind, form truly meets function for practical, luxurious comfort.
---
---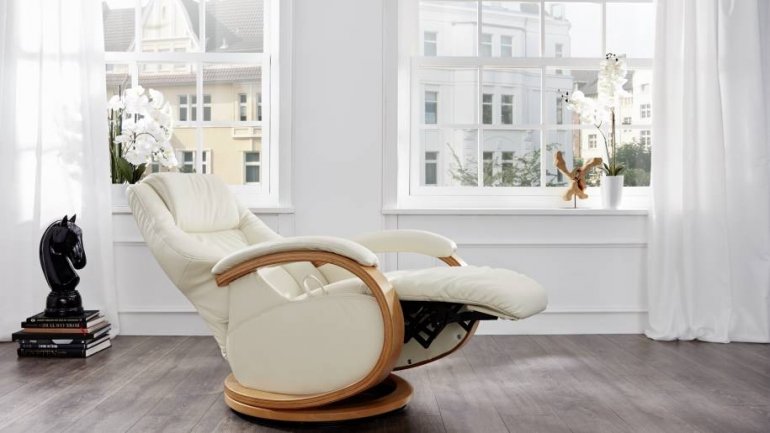 Integrated recliner chairs
---